Create a new habit, document your life
and

show up for yourself

for 30 days straight
Right now you're stuck in your house, scrolling on Instagram, looking at all the pretty things that everyone is making, and thinking about your to-do list of unfinished (un-started?) projects over in the corner. It's cool. We're in a crazy time.
But that's why it's more important than ever for you to start your own creative habit.
Your story matters and it is essential for you to be documenting your life right now. We are in unprecedented times, and there isn't anyone else who is going through it the same way that you are.
Scrapbooking Daily Pages are simultaneously an act of self-care, a self-discovery practice, and a simple way to show up for yourself.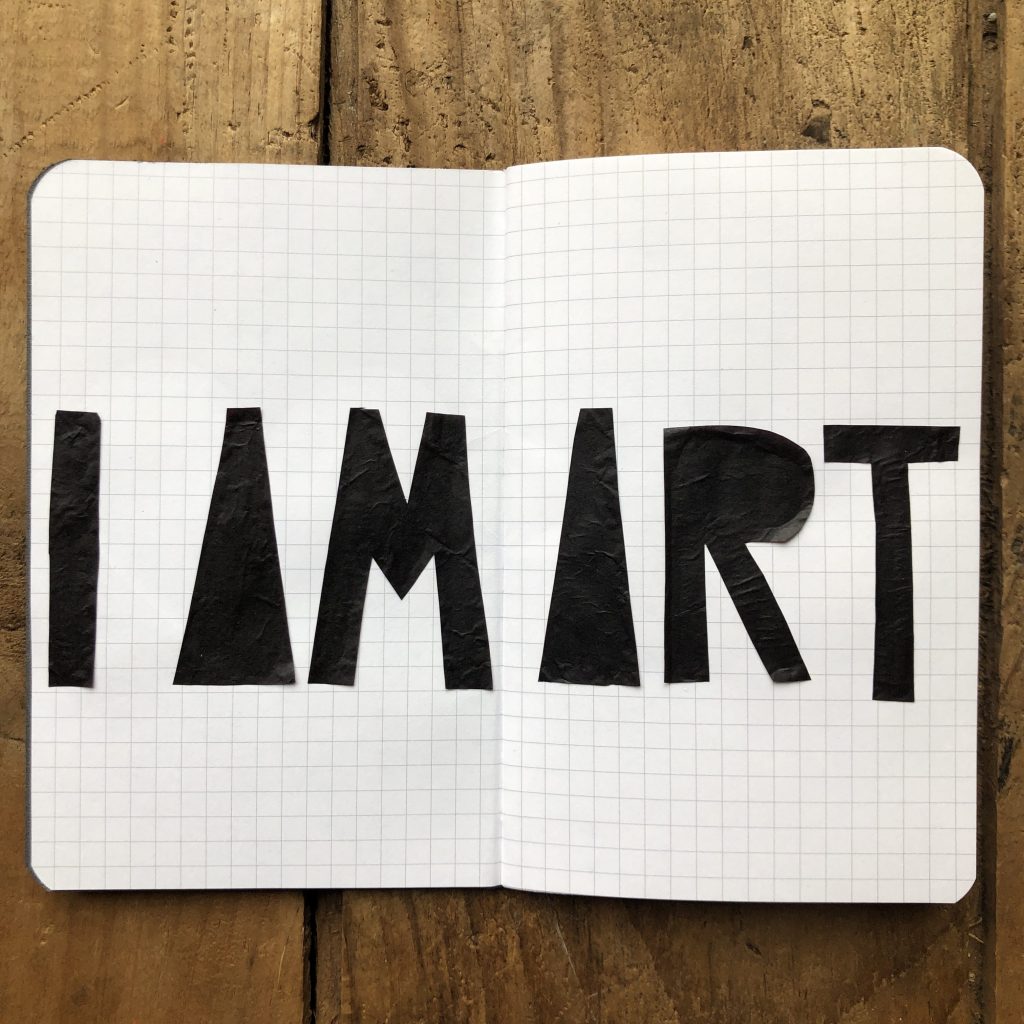 You might think that you need a ton of time, space, special supplies or products, to start scrapbooking your life. Nope.
The legit truth is you can scrapbook your life with just:
a small simple notebook
whatever random stuff you have in your house
and five minutes a day.
Whether you've never scrapbooked a day in your life or you're ready to start making time for yourself, your stories and your creative habit, let the all-new Scrapbook Daily Pages: 30 Days of Showing Up class help you.
By the end of April, you will have:
Created 30+ pages scrapbooked in your notebooks
Told 30 simple stories about who you are right now
Spent 450 minutes showing up for yourself + working on your Daily Pages
Learned more about yourself, your story, your style, and so much about what you like/dislike about your own crafting work
And also, you'll have spent a month's worth of time hanging out and creating along with me (rukristin: Feminist Scrapbooker), live each day for 15 minutes at Noon EST or watched the recording sent to your inbox & put into the classroom each afternoon.
Here is the full breakdown of
Scrapbook Daily Pages:
30 Days of Showing Up
In this welcome video, you'll learn everything you need to know about getting started with Daily Pages. I'll give you some advice on how to pick out your first notebook and I'll give you the rundown on how this course is going to work throughout the month.
Tell you about Daily Pages.
Help you choose your notebook
Explain the daily videos and recordings
Workbooks are my favorite. This one has ways for you to brainstorm and keep notes throughout the month of the various things you're learning during this process of showing up.
30+ Journaling Prompts
10+ Creative Prompts
Brainstorming worksheets
and so much more
Every day from 12:00-12:15pm EST rukristin will show up and create that day's Daily Page live on camera and you're invited!
You are encouraged to bring your notebook and scrapbook your Daily Page along with Kristin and the community.
You will learn how to show up each day, foster a daily creative habit, and craft your pages in about 5 minutes a day.
Our video dates are 15 minutes long for a welcome and a quick show and tell at the end — don't worry, I promise to show you how to create Daily Pages in 5 minutes a day. We are going to have the best time.
These sessions will be recorded and placed into the classroom and sent to your inbox each afternoon, so even if you can't make the live recording, it's very easy for you to participate in the course each day.
It also means that you can come back and watch your favorite Daily Pages videos over and over again. You will retain access to this course and these videos even after our April 30th end date!
Our community is here for you throughout the entire process, with galleries, forums, an unlimited video hangout spot and a kick-ass social media alternative space for a much healthier scroll.
If you take this course, you will develop a habit of showing up for yourself, your stories, your creativity, and so much more.

Yeah, but who am I?
and why should you listen to me anyway?
Hi, I'm Kristin (aka rukristin: Feminist Scrapbooker) and I have been scrapbooking for more than twenty years. I've made hundreds of scrapbooks and tens of thousands of scrapbook pages.
But, scrapbooking has not always come easy. Throughout my journey, I've had people tell me that I have no business scrapbooking because I don't have a proper family (kids or a husband), or that I shouldn't bother scrapbooking my life because why would anyone ever care about that stuff anyway? Legitimate real-life trolls and haters. I kid you not, there were actually human beings who said this stuff to my face.
But I don't scrapbook for them, I scrapbook for myself. I do it because I'm a paper person. I love playing with pretty paper. I'm a picture person, I love taking photos (even when all I had was a disposable camera in middle school). I love gathering up the bits of life and sticking them into notebooks.
Did it bother me when those randos were like, that thing that you're passionate about? It's stupid and it doesn't matter. Sure, but only for a second. I'm never going to get validation from every single person in the world, and my time is so much better spent, seeking validation from myself. And so is yours.
My struggles haven't always been external either. I have two overlapping headache disorders that have made my day pretty painful. Through a lot of hard work with the right doctor and figuring out a lifestyle that works for me. I can spend more days creating + longer hours at my desk. And through it all, scrapbooking was there for me when a lot of things no longer could be.
Even when I couldn't get off the couch; I brought my supplies to the coffee table.
Even when I couldn't go out as much as I used to, I started scrapbooking things like my favorite TV shows and the things I was making for dinner.
Even when my face was swollen from a migraine, I still snapped a selfie because this is my life and the struggle is part of the story.
I learned that when I documented the hard stuff:
It made me more grateful for the good stuff
While it was happening the hard stuff didn't seem as hard
Afterward, upon reflection, (realized just how strong and resilient I was during those hard times
There is still so much joy & creativity during the hard times and I owed it to myself to practice that as much as possible
I have taught thousands of women how to scrapbook their stories. Whether you're just starting out and only have a notebook and a pen, or you've got a room or two filled with supplies, there are a few things I know about women like us. We are capable women. We know that women's stories have been sidelined for too long, even if we don't know exactly where to start with our own.
We have awesome stories and we do really cool things with our lives. We are teachers, we are students, we craft, we swim, we read, we are people moms, we are plant moms, we live in New York, Kansas, Australia, and so many other amazing places on this planet. Whether we are world travelers or we love staying at home all the time or something in between, we all have lives worth documenting and I'm passionate about helping you document yours.
I know that your story matters. I know that you are the best person to tell that story. You are the only person who has been there the entire time, and that makes you uniquely qualified to tell your stories.
You might say that you don't have the time or you don't have the talent or you don't have the supplies.
None of that matters.
You can do this in 5 minutes a day.
It doesn't take talent to start sticking paper into a notebook.
You don't need a ton of supplies to get started. All you need is a notebook and whatever else you have at home.
The only thing that's standing in your way is your misconception of what scrapbooking is and has to be.
Scrapbooking your story can be a badass empowering form of documenting your life where you choose the rules and I'm just here to make it as easy + accessible as possible.
Right Now, More than Ever, You Need to Show Up For Yourself (let me help you with that)
The most important advice I have for you right now, to get through these crazy times is to show up. Not to set unrealistic goals that you can't possibly meet and then beat yourself up when they don't work out.
You need to show up in a way that works for your life.
Your life does not look like everyone else's life, so it's okay to find solutions that don't look like everyone else's. As long as you show up in a way that is authentic to who you are, you can move through periods of transition and struggle while keeping yourself grounded in what you know and love.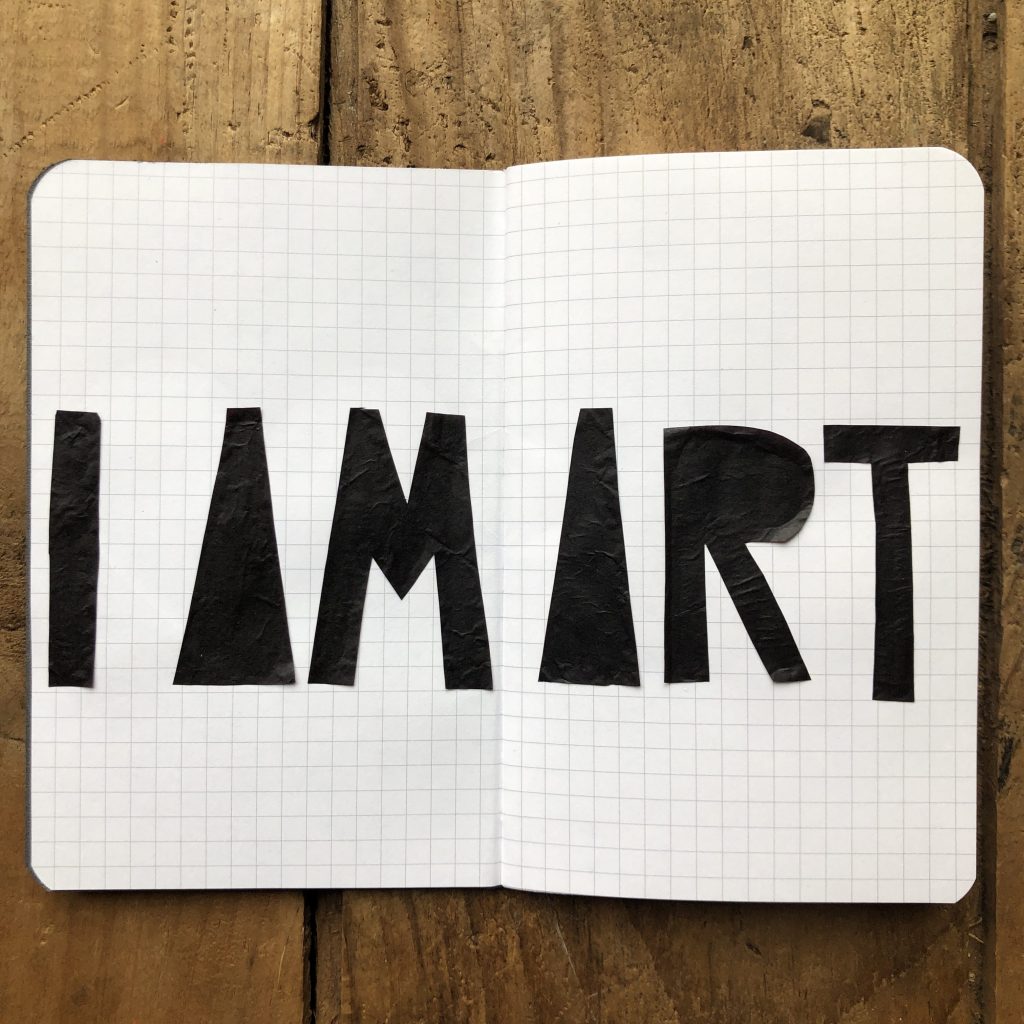 Scrapbook Daily Pages: 30 Days of Showing Up: Self Paced