Crafty Ass Female is Back! Episode 179: Daily Pages Roundtable – The Life-Changing Impact of a Small Habit
Hello and welcome back to the Crafty Ass Female podcast!
We're kicking off Season 9 of CAF – The Season of Habit – with a three-episode series all about Daily Pages.
If you don't know about Daily Pages, then the best thing I can recommend is for you to move your mouse to the top right of your screen and sign up for your free Awesome Ladies Project account. Every day you will have unlimited access to free inspiration from our incredible community in your activity feed, where you can join in on the Daily Pages Challenge.
You'll learn how to make all of my favorite Daily Pages, as well as all the tips and tricks the Awesome Ladies and I have for getting started with this amazing creative habit. I'm so excited about this International Scrapbooking Weekend event and I'd love for you to join us.
In the first Daily Pages episode, I'm joined by Honore, Ann and Kinjal, the first group of our guest experts. They share the different ways Daily Pages have impacted their lives, creativity, scrapbooking habits, and so much more.
In this episode, we get into some great topics:
we talk about the way our Daily Pages have (or haven't) changed since we started creating,
we discuss Daily Pages as a place for both Practice and Play,
and we have an important conversation about the way the Daily Pages community —especially the Daily Pages at Noon Livestream & Share community has impacted our lives throughout the last several years.
Let's introduce our guests!
Kinjal is a wildly enthusiastic Londoner, who lives with her partner and 2 tiny sproglets (children) in the cloudy capital of England. She loves all things scrapbooking and stationary and can usually be found under a pile of LEGO bricks or daydreaming about the parallel universe in which she is a minimalist!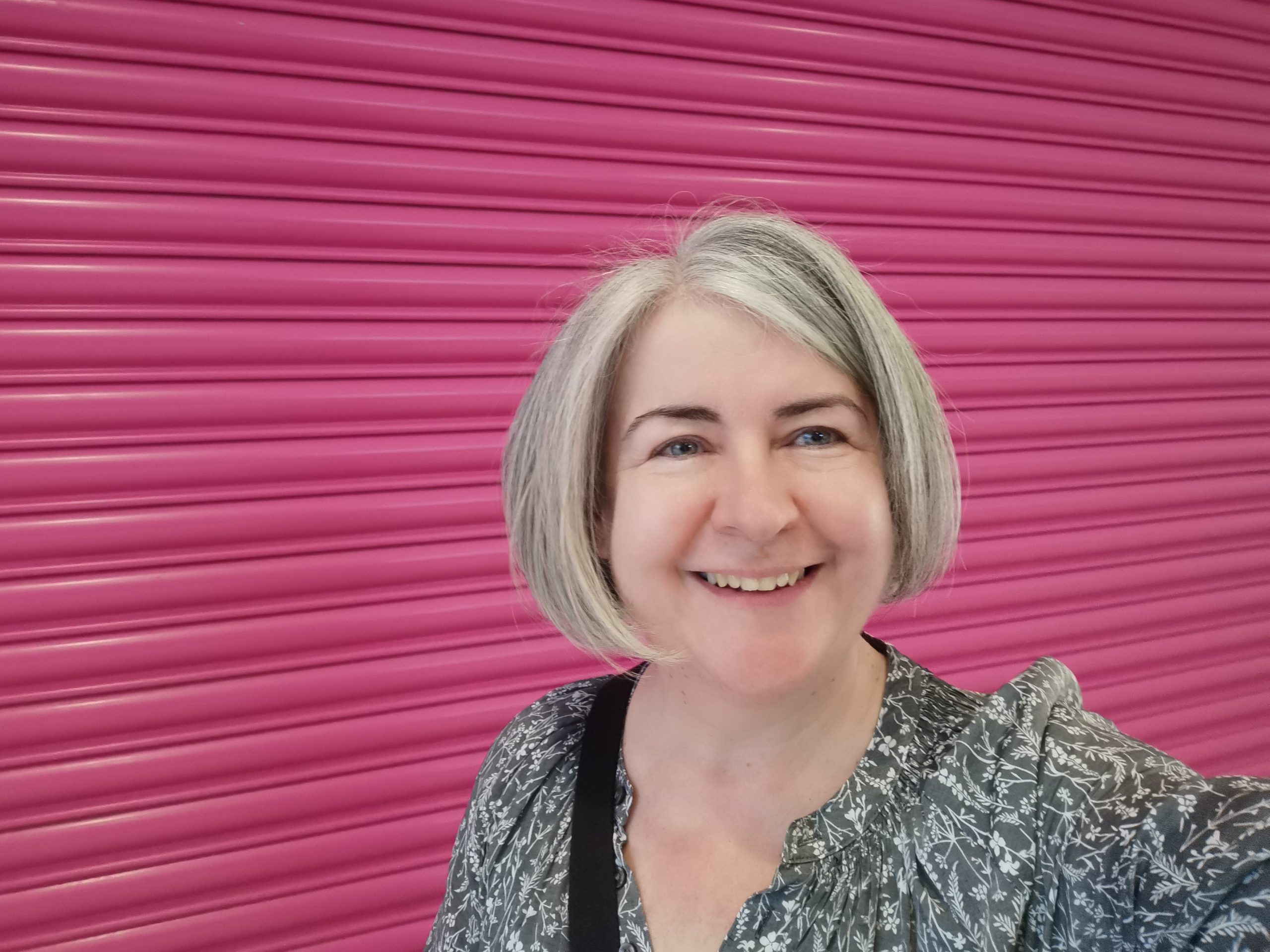 Ann lives in the UK and is married with two grown up children. She currently works full-time and loves being able to get home in time to join the 5pm Daily Pages Zoom.
In her own words: "I have been crafting for a long time, started out with cross stitch and then got in to scrapbooking. I joined the UK Stampers Network about 12 years ago and that got me interested in stamping and paper crafting and I take part in ATC exchanges etc with them. I find crafting a great way to switch off from all the stresses we have and just lose myself in a creative project. I am so glad I found Kristin and the Awesome Ladies Community, it definitely helped me get through all of our lockdowns."
Honore is a treasured and stalwart of the Daily Pages community and I was so incredibly happy for her to join us for this discussion.
In her own words: "I have been playing with scrapbooking nearly 20 years; everyday I do is a new learning experience. I'm a member of the "bye bye baby generation" – WWII and a long-retired public librarian and training coordinator of library associates – persons who worked in public libraries but did not have a master's degree in library science."
Let's kick off the quote recap with this amazing one from Honore, turned into video form.
Introduction and About Daily Pages
Honore:
"It has been one of the highlights of my life. And that life has been very difficult over the past few years. I've met an amazing community of women who are certainly very creative and inspiring and forthcoming and very sharing, and it just makes you feel good."
Kinjal:
"I thought, What is this? I don't understand what this is. This is too scary. This is not for me. And then I started doing it anyway…and it's been so, so good to learn more about me, about you, about everything. And everyone has different perspectives."
On Conquering Perfectionism
Honore: "Because I think that one of the things that we creative people, and I use the term creative in quotes, we expect perfection on the first try. We know good and well, it's not going to happen. But you can practice becoming perfect doing Daily Pages, however perfect looks for you."
Ann: "That's true. One of the great things is that there's less pressure in it. So if you do drop your black ink, you think okay, it hasn't ruined the whole scrapbook page or something, you know. It's not something you've worked on for ages."
Kinjal:
"I think that's one of the reasons it's worked so well for me is it is not a commonplace book, I it is not the place where my most inner thoughts. It's also simultaneously not an art journal, which was like, it has to be a certain way. That's just me projecting my perfectionism or what art journaling is. But it's not that it's not a scrapbook. And it's not insert 10,000 other things here, for some bizarre reason. It's not a memory planner. It's not a it's not a book journal. Oh, it can be all of those things. It's not a bullet journal, it can be all or any of those things. But it's not the thing that other people need to see, except on this call, if you want to share."
Daily Pages as an Escape
Ann: "Doing Daily Pages is one of the few times when my family know that they have to leave me alone. No, I cannot help with anything. Unless it is obviously life or death. interrupts me. But it's one of the few times because I'm actually on the call, and they will get caught on camera. So don't be wandering in. If you think about it, normally, when you go to craft, you know, and someone comes in and they need something, there's not that many times you can say, 'No, I'm too busy go away'. Daily Pages, you can say sorry, between five and six. I'm on a call, that's my time. And it's important that I take time for myself and my kids are older now. So it's easy to do. But until I started doing Daily Pages, I didn't really have a time where it was my time. And I say unless it's life and death leave me alone. I'm going to create."
For a full transcript, click here to read and listen along.