JOIN US FOR
Awesome Ladies Live
Feminist Scrapbooking Retreat
July 24th-26th, 2020
East Lansing, Michigan
Payment plans (3 month & 6 month) available
You are the storyteller, your stories matter, and even more — they are essential to your self-care. This retreat is about spending a weekend with rukristin + the Awesome Ladies learning tips, tricks, and techniques for documenting your own life. You will feel empowered and impassioned in a way that's all your own.
How many amazing and badass women are leaving their stories untold? I've curated this weekend just for women like you. Women who know their stories matter. Women who know that our stories have been marginalized for too long. And most importantly, women who know that it stops with us.
There is literal magic in the air when women come together and share their stories, their experiences, and their creativity. There is a reason that our mothers and grandmothers, our aunts and our friends got together and had feminist consciousness-raising groups. This is our chance to build upon their legacy while simultaneously learning about ourselves through scrapbooking.
This event is broken up into multiple days and events, and you are free to attend whichever days and events are best for you. I hope you attend everything of course, but I know that can't always work with our schedules and personalities. Please don't feel guilty if you need to sit something out, but you deserve this creative weekend. A weekend where the priority is your story.
You need time to record your story and you need time to experience your story. This weekend is that time.
You are an amazing person and your story matters.
We always have SO much fun!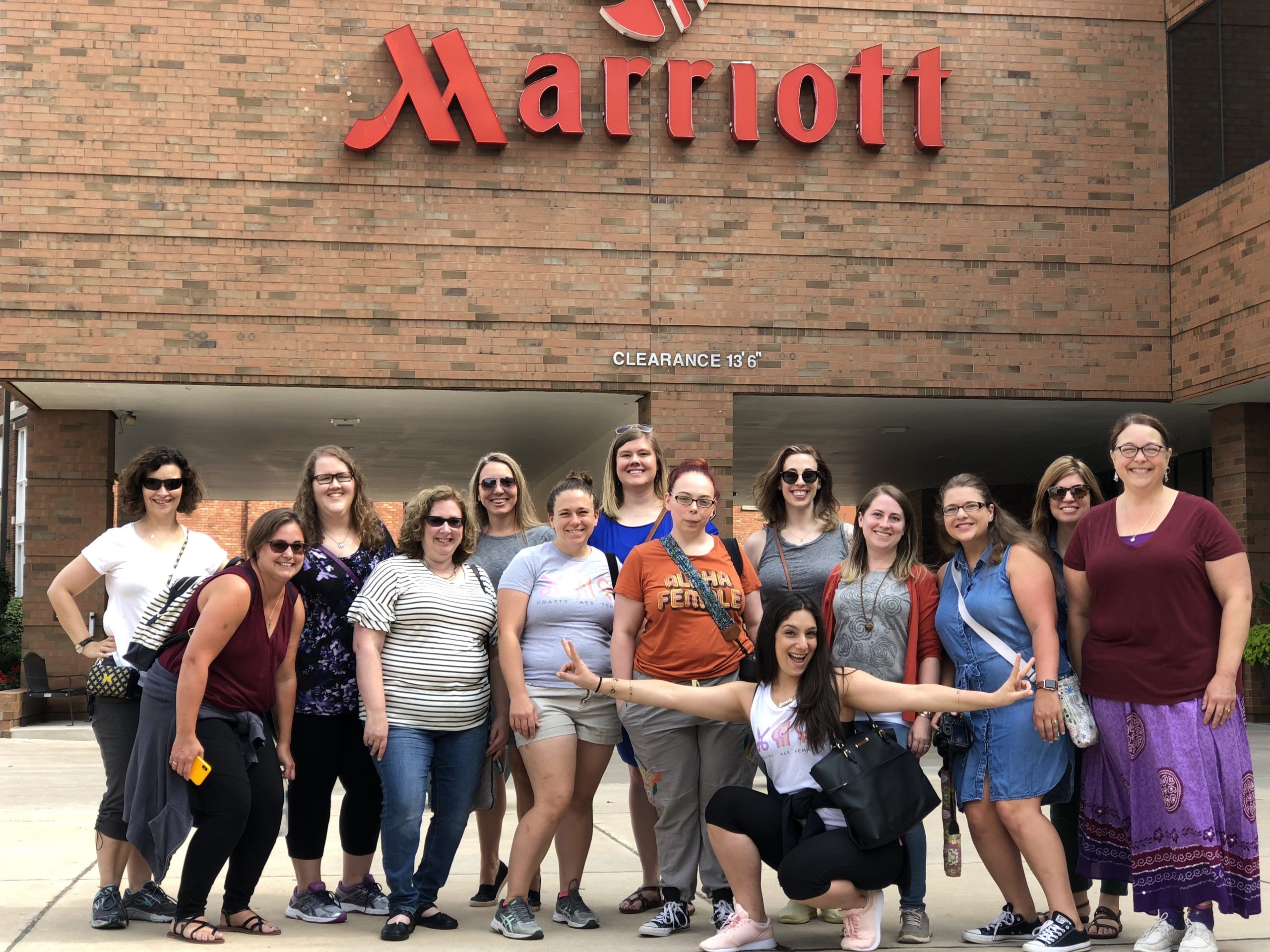 You are going to be a part of something special and magical when you attend Awesome Ladies Live. Each event is unique, with different workshops and different attendees, the atmosphere makes each retreat a once-in-a-lifetime opportunity. You are going to be a part of rukristin's absolute favorite thing of the entire year; holiday, Awesome Ladies Project event, you name it — it only happens once a year, and it is fucking magical.
You deserve to have rukristin's expert guidance on your storytelling journey. You know how important it is to tell your story. rukristin has curated this weekend for maximum retreat potential. This means that in addition to workshop time, you'll have time to sit with her 1:1 to talk about your personal creative storytelling journey and talk out any questions you might have.
You will make new creative lady friends. You will leave the weekend with new friends from all over the place. One of the greatest things about the Awesome Ladies Live retreat is meeting and becoming friends with women whose stories are both similar and different to yours in all the best ways.
What Past Attendees Have Said
Full Break Down of a Past Retreat
---
Friday
Meet + Greet @ 6:30-9 pm
On Friday night we'll have an awesome meet & greet at rukristin's studio. One of Kristin's love languages is cooking for other people, so as a part of this retreat, she opens up her home and invites you to taste some of her garden grown produce and other great midwestern local foods. This is a great opportunity to casually meet the other attendees and in past years, ladies have brought a few of their own scrapbooks to share. It's a wonderful way to open up to new friends.
refreshments & light dinner will be served
bring a scrapbook or two to share!
Saturday
On Saturday we spend a full day at our retreat location, The Downtown Marriott East Lansing. Through multiple amazing workshops, we will dive deep into creativity, storytelling, personal style, and more. There is one-on-one time with rukristin, and time with the other awesome ladies as well. You'll leave with multiple different types of scrapbook projects filled with different paper-crafting techniques, ideas for introspective journaling styles, taking better photographs, and more.
Creative Workshops @ Marriott East Lansing — Examples of past workshops
Workshop #1 — Exploring Your Personal Style Through a Creative Routine
In the first workshop of the weekend, you will learn the inner workings of rukristin's daily pages creative habit. You'll learn how to build your own creative routine and use your routine to help you develop your personal style in minutes each day. You will learn how creative habit informs your personal style. We'll be working inside of pocket-size notebooks, using stamping, mind mapping, and learning to pull from our body of supplies.
Lunch Break
On Your Own. We'll have space saved at HopCat (burger pub) you'd like to lunch with us there or check out one of the other amazing options in Downtown East Lansing. There are tons of restaurants within walking distance and tons more within a quick drive/rideshare.
Workshop #2 — Empowering Your Stories through the Art of Selfies:
In the second workshop of the weekend, you are going to soak up all of rukristin's best tips, tricks, and everything else she knows about the best ways to take selfies that you love and appreciate. You will be creating a selfie-based Page of Me scrapbook layout that tells a story about who you are right now that is uniquely you. You will find out how to take selfies that you absolutely love.
Workshop #3 — Loving Paper, Embracing Texture, and Learning to Mix Your Own DIY Mini-Album
In the final workshop of the weekend, we will explore incorporating our other senses during the creative process. We'll be creating our own DIY mixed paper mini-album; rukristin's favorite mini-album style. Through this process, you will explore texture, dimension, and learn to play outside the box.
Dinner Break
On your own or you'll be free to stay in the room and work on your projects
Free creative time
Sunday
On Sunday morning (after hotel checkout) we'll go on a wonderful photo walk and explore downtown East Lansing and the campus of Michigan State University. We'll make stops outside the Broad Art Museum and other awesome selfie & group photo spots! We'll then head over and enjoy a goodbye Ice Cream Social at the Michigan State Dairy Store (home of the best ice cream in the world).
Photo Walk Downtown East Lansing — We'll meet in the lobby of the Marriott (they'll hold your bags at the front desk if you need) and walk our walk through Downtown East Lansing, stopping at a few key landmarks along the Michigan State campus to take wonderful selfies and group photos. We'll finish up our walk at the MSU Dairy Store around Noon.
Ice Cream Social Farewell — Michigan State University is home to the best ice cream on the planet at the Michigan State Dairy Store (the cows live just down the street). We'll finish up our weekend here at the dairy store with amazing ice cream cones and wonderful hugs, goodbyes, and of course, more selfies.
Lodging
Our event location, the East Lansing Marriott will have rooms available. This year we are trying to get a group rate, and we should have that available by mid-March.
There are also a number of other nice hotels in the area. And there are both ridesharing services and carpooling with other attendees for getting around town.
Travel
Car Travel: Awesome Ladies Live is being held at the East Lansing Marriott at University Place, located at 300 M. A. C. Ave, in East Lansing, MI 48823.
It's an hour drive from Detroit, Ann Arbor, Flint, and Grand Rapids. It's 3.5 hours from Chicago, Cleveland, and Indianapolis. It's a super easy weekend drive for so many Midwesterners! It is easily accessed from interstate highways 96, 69, 94, and 75.
Air Travel: Easiest Airport: Detroit (DTW)
Transportation from Detroit Airport to East Lansing: www.michiganflyer.com (goes directly from the Detroit Airport to the event hotel).
Other area airports: Lansing (LAN), Grand Rapids (GRR), and Flint (FNT)
**If you are international — Consider coming into the one of the Chicago airports O'Hare (ORD) or Midway (MDW) and taking the train directly to East Lansing.
Train Travel:
East Lansing has an Amtrak station right on the edge of campus, coded LNS in the Amtrak route system.
Getting Around East Lansing:
Uber and Lyft both operate in East Lansing, as well as CATA – an excellent regional bus system, with more information at www.cata.org
Frequently Asked Questions:
What is the best airport to fly into?
Detroit is usually the best airport to fly into. Airport code: DTW. There is transportation from the Detroit Airport directly to the East Lansing Marriott via the Michigan Flyer. Details available at www.michiganflyer.com.
You may also have luck with the Lansing (LAN) or Grand Rapids (GRR) airports.
If you're international, the Chicago airports are less than a 4-hour drive/accessible via train/bus.
What else is there to do in the area?
East Lansing is home to Michigan State University, is an hour from Lake Michigan beach fronts, and a little over an hour from downtown Detroit.
What are the meal options in the area?
The event will be taking place in the heart of downtown East Lansing, a vibrant college town. There are dozens of meal options for every palette, including vegan, organic, gluten free, and other dietary needs within walking distance. Here's a list of all of the options downtown. I'll have a list of my favorite places in your welcome bag. If you're looking for specific options for the afternoon/evening you come in, please email me at rukristin@theawesomeladiesproject.com
Who is your teacher?
Awesome Ladies Live Policies:
All sales are final. You may sell/transfer your spot to another person if you cannot attend the retreat. If you need to arrange to transfer your spot to another person, please email rukristin@theawesomeladiesproject.com to set that up.
All attendees must be over the age of 18. Only retreat attendees will be allowed inside the Awesome Ladies Live workshops.
Awesome Ladies VIP members are permitted to use their VIP discount to purchase multiple tickets to the event.