Travel Journaling On the Road
Every summer I take a big family vacation. I have played with a variety of travel journals in the past to document my adventures. This summer I included my travel journaling in an Archer and Olive notebook I had already started using as a daily journal.
Here's how I documented my travel while on the road.
I had just started using an Archer and Olive A5 Dot Grid notebook – the paper is deliciously thick (160 GSM) and ready for crafting. I had been journaling and sticker-ing and doodling in it for a bit and felt I could do whatever I wanted in this notebook for my travels.
I was still going to take photos and document the trip in my Project Life, but this would be an additional way to document the trip on a daily and more personal level.
This was a cross-country trip in our RV (recreational vehicle / motor home), traveling from Southern California to Mt. Rushmore in North Dakota, to a family reunion in Idaho, then back home.
I was able to ride as a passenger in the RV and could doodle and journal along the way. Being in an RV the ride is much smoother than in a car so it is much more crafting-friendly. For each day I noted our destination, tracked when we left and arrived, the time it took, and doodled some things I saw along the way.
We were trying to get an idea of how long we wanted to drive each day, so this information helped us make decisions on future days. On the right page I used some Amy Tangerine stickers to track our various stops along the trip.
Here I doodled some things I saw along the way. I thought I might go back and watercolor some of the drawings, but I never did. I still have a great idea of what I saw, how I felt, what experiences I had. All the colored pens are Stabilo point 88.
At different stops along the way I began picking up postcards and stickers that I could put in the travel journal immediately; photos would get printed later and go into Project Life. The object hear was to capture the moment at the time. I also tore up flyers we picked up at the campgrounds to add some ambience.
I even threw in my Currently list! I loved using some of the Amy Tangerine weather stickers. On July 30 I just made a list of sites, things I wanted to remember seeing, and I even included a quote from my husband that stood out in my mind.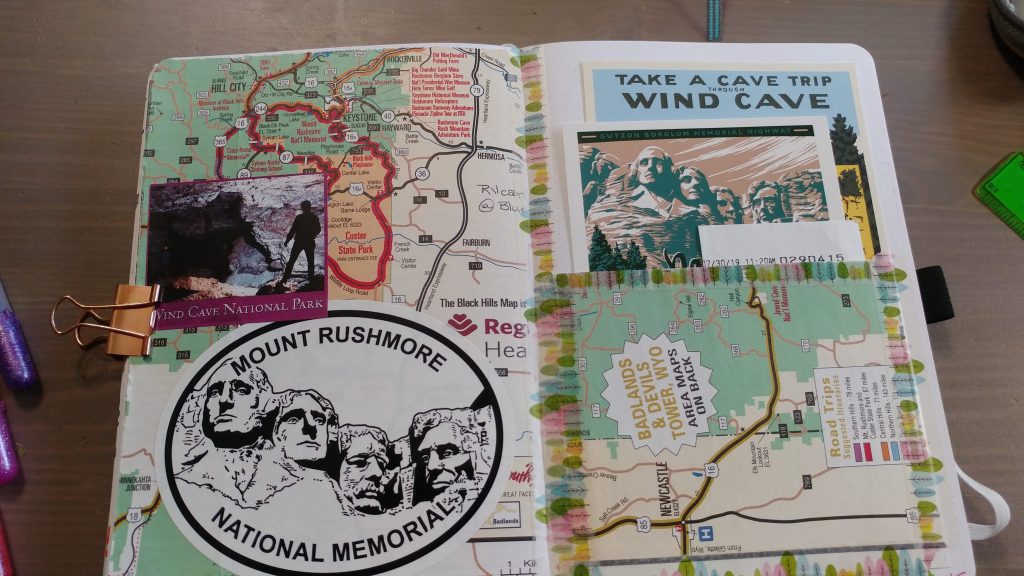 Here I tore up a map of the area to use for a background and added some stickers I picked up at the ranger stations. On the right, using washi tape, I fashioned a pocket to stick in some postcards and a receipt. I actually wrote a story on each of the post cards about visiting that place.
Postcard is attached with washi tape and more AT stickers. By taking that sticker book I didn't have to haul around a pile of supplies, just my bag of tools (adhesive, tiny attacher, scissors, a couple rolls of washi tape), my pens and the sticker book. By using ephemera gathered along the way I was able to create a travel journal unique to this trip and richer in memories.
Because of the bullet journal open style, I could use pages for anything along the way. On the left I jotted down some stories my mom and her sisters were telling about ancestors that I wanted to document, and on the right I was feeling pretty burnt out at one point and just let my creative juices speak for me.
The last two days. I was pretty done with the road trip by this point, and we traveled some long days to make it home, so I lost myself in some art-making. The bird on the right is one of several color-in stickers from Amy Tangerine – they were fun to add into my travel journal and gave me some extra artwork to do on the road. I was really loving Amy Tangerine's rainbows and would set my pens up in rainbow order and just color one after another – no extra decisions, but such fun results.
I really loved how this travel journal came out. It allowed me to document my trip, capture my experience, as well as giving me opportunities to get crafty (for self-care and sometimes just plain sanity on a road trip with family).
I like the minimal supplies needed and using things I picked up along the way to help tell the story. The best part, though, was that when I got home my journey was already documented. If I were to wait for photos to be printed and sorted, this journal would have become another UFO (UnFinished Object) in my craft room.
We will be traveling in the RV full time starting this year, and this will be my plan of attack for travel journaling.