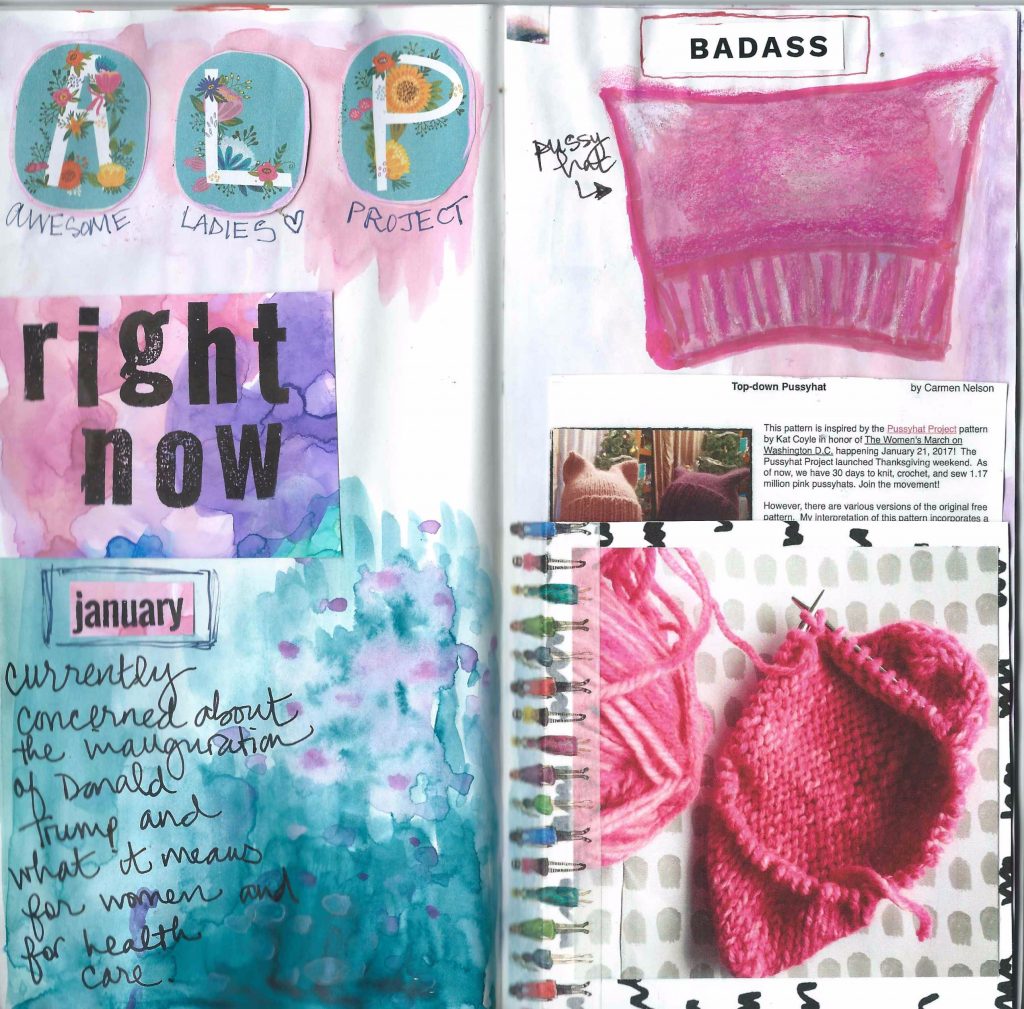 My Right Now: Craftivism and the Women's March on Washington
Right now, as we in the United States prepare for the Presidential Inauguration of Donald Trump, political emotions, both personally and within the press, are heightened. Trump has never held elected office, and while that is not unprecedented, it has certainly been the norm during the last 100 years. While he was not my choice for President, I have a healthy respect for the process. In a different life I was a Political Theory professor and was also qualified to teach courses in American politics.  I stopped teaching in 2009, when I became too ill to work.
Unfortunately that situation has continued, and after a time, I have had to accept my Disability. Even as my body becomes sicker and sicker, I feel a need to find ways of expressing myself and my ideas. As a member of Explore Team, my Awesome Ladies Project's overarching theme will be about various aspects of feminism. I am an avid art journal I will be using a Traveler's Notebook (this cool one by Jane Davenport), and while all ALPs probably have something to do with women…I guess I want to dip my toes back into philosophical waters a bit, and then see what happens creatively.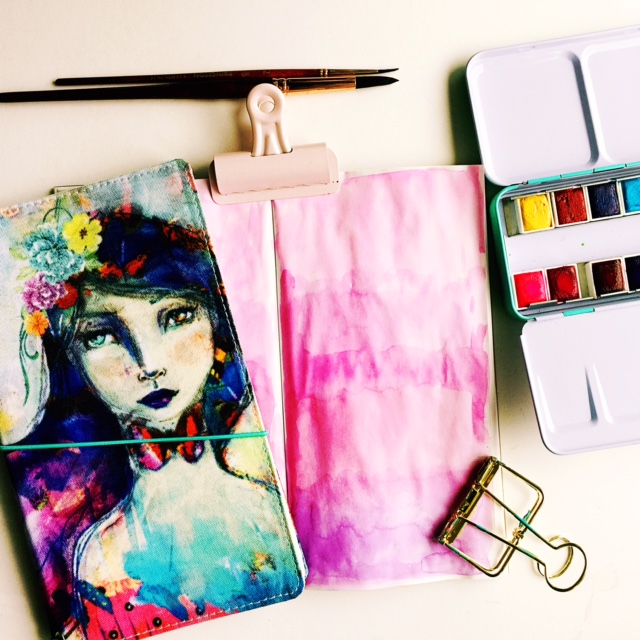 So my Right Now has a lot to do with politics—not only the Inauguration and Cabinet confirmation hearings, but also the Women's March on Washington taking place Saturday, January 21, 2017. I am very concerned about the state of womens' politics, especially as seen in the last few weeks of the national election. I cried when I heard Trump on film (and yes, it was 10+ years ago) talk about how power and wealth is such a turn-on for women that you can grab them by the p*ssy.
I would love to attend the March, if to do nothing but remind lawmakers that womens' issues are human issues. Unfortunately, I cannot participate in the March, or one of the many satellite marches in cities around the country, because of my health, but I am trying to engage in some Craftivism to tap into the flow of ideas and feelings.
Pussy Hat Project
#1) Before I became an art journaler, I was a knitter. Both of these I consider core identities, core ways I express myself and connect with other people. When I found out that knitters had a campaign to clad Washington Marchers in pink hats with cat ears, I knew I needed to knit one right away. Pink is the official color of the Washington D.C. March, and the cat-ears are a direct reference to the "grab 'em by the p*ssy" comment. Here is the website: https://www.pussyhatproject.com/. If you scroll down there is a mission statement.  
Many of my knitting friends are all about making these hats, with the original pattern by Kat Coyle, a prominent Los Angeles area designer. I asked around and native New Yorker told me, "I am knitting a hat to make a strong visual statement when I march in NYC next weekend."  Laura from Chicago, said
I'm marching against the normalization and the acceptance of sexism and misogyny in positions of power. I'm knitting a hat because this skill is one of the tools I have, like my vote, my voice, my wallet. I'm wearing the hat to the march in solidarity. And I really hope someone asks me about it on the train!
Even though I didn't get out to march in person, my hat was worn at the March in Lansing, MI; attended by over ten thousand people.
Documentation Project
#2) As an art journaler and papercrafter, I decided to document the P*ussyhat Project. Here is an article in "Bustle" about the project.  The first spread is about the creation of the hat, with a watercolor background, a knitting progress photo, a little painting of the hat, and a copy of the pattern I chose to use. There are many ways to knit a hat, and I chose to knit mine top-down and in the round. (It is totally okay if you have zero idea what that means, but any knitters out there might want to know.)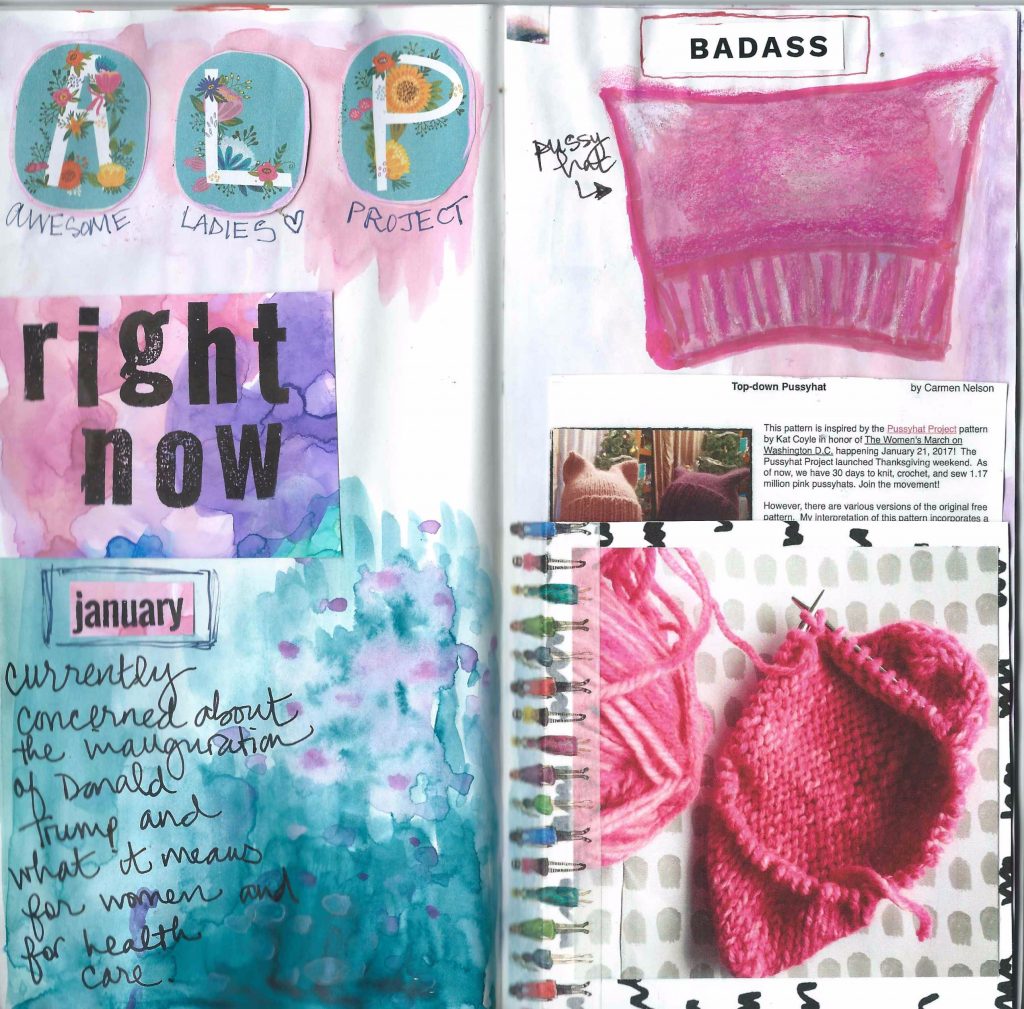 The second spread has a tip-in about the history of the Pussyhat Project, some journaling, and a photo of the finished hat. Magic cat ears appear when you put it on your head, as seen in this unfortunate selfie. Did knitting this hat make me feel more empowered? Yes, a little, and that goes a long way right now. I plan to wear this hat around and it may or may not spark conversations. A note about materials: I am using a regular Midori brand insert, and Jane Davenport brand watercolors and washi tape, along with random ephemera.
Engaging with a Friend
#3)   A friend of mine from graduate school, Meredith Weiss, who is a serious bada$$ intellectual and who studies activism both domestically and around the world, sent an invitation on Facebook to me to attend an open house hosted by her and her partner after the Women's March on Washington.  I became depressed about the interesting conversations I would miss with the diverse cross-section of individuals certain to attend my friend's open house. Because my illness is so isolating, I decided to reach out and ask her if she would provide a statement about her open house, the March, or anything else. Meredith and I started our doctorates the same year, and while we studied different areas of political science, I have always considered her to be one of the most insightful people I have ever met. She gave me a suitably academic response, because she *is* an academic, but hey, most of my friends are academics, so they constitute much of my Right Now.
As someone who studies social activism, and is hence deeply aware of its limitations, I am inclined toward skepticism about what mobilization can achieve, when. Petitions, phone calls, even a massive concatenation of simultaneous marches have no necessary effect on policy or political outcomes. And yet, I still deem these efforts critically important. The reason for me boils down to the essential meaning of political "liberalism," not in its distinctly American partisan sense, but at its root: a limited state. There are aspects of our lived experience, and our political experience specifically, that the state cannot and should not penetrate. It is those domains that it is imperative we strengthen, particularly when the state is itself impenetrable or antagonistic. We strengthen our networks, our empathy, our knowledge, and our awareness both in the course of building and deploying social capital. It is that social capital—an intangible, amorphous, and ultimately unmeasurable quantum—that gives "the people" political power and meaning. And it is to contribute to social capital that largely symbolic actions like marches are essential.—MW
Lots of food for thought here. I believe the Awesome Ladies Project has the power to build social capital. The last spread in my Traveler's Notebook is a journaling page where I reflect on my craftivism efforts.
In my own way, from the comfort of my own bed, I have been able to participate in a bit of rebellion and feel solidarity with my fellow Pussyhat knitters, and have a substantive exchange with several friends, all the while documenting the process for my Awesome Ladies Project. Oh, and I ended up with a great hat! It will be very interesting for me to revisit these pages in a few months, and a few years.