Ask me about my favorite things, and depending on the topic, I will flounder. This is especially true of topics like favorite books or movies. In some categories, I just can't pick that one title that I love best. There are other things that have more definitive answers. My favorite beverage would have to be coffee. I drink it daily. My favorite days are rainy days. My favorite food or my favorite place…those change. I like to try new things which means I pick up on new favorites.
That's why I believe documenting me and the things I love should be an ongoing and adaptable project.
Supplies Used
Simple Stories Pocket Page
Project Life Kit or other pocket page kit of your choice
Washi Tape
Wood Veneer and Other Scrapbook Embellishments
Watercolors (crayons and cakes)
Waterbrush
Photos
Watercolor Paper
Stamps
Ink: Colorbox Dye Ink or other Permanent Ink
Pencil and Eraser
Gel Pens
Your Awesome Ladies Project Workbook
I chose to work with pocket pages because they easily allow me to move around the cards. This can be especially useful in an ongoing project. If my list becomes longer or I wish to elaborate on a topic, I can easily just add a new card and place it next to the older one. Any pocket page configuration will work, though I personally chose to do a little stash busting. I typically don't use this particular pocket page design when I do my traditional Project Life Pages.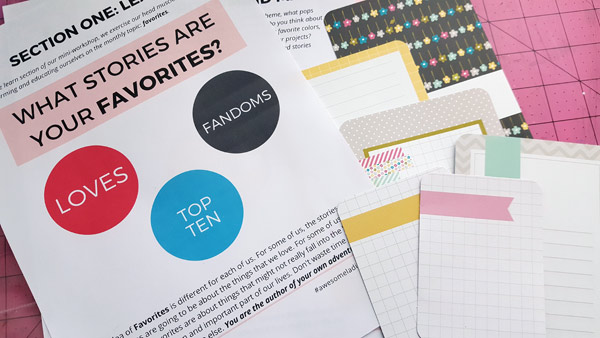 Step One: Fill Out Your Workbook and Choose Your Supplies
I don't necessarily have a lot of photos of my favorite things. It left me feelings like I needed a starting point for some guidance. I decided that a color palette was a good place to start. Knowing the colors I wanted to use would help me choose the right supplies. I realized that I loved the bright bold colors of the workbook and chose a pocket page kit to match them. Filling out the workbook helped me choose some of the topics I wanted to start off with.
Sometimes, working in the workbook doesn't come easily for me. I feel silly when I sit and write about myself. I can't quite put a finger on why. I just do. I knew I had to move outside the workbook to allow myself to grow and share more of me. There was only one solution for that. Cut the workbook apart! Since I had already chosen a color palette based on the workbook, this meant I now had some readymade die cuts to use on my cards.
Step Two: Start by Introducing Yourself
This step is optional. I just felt I needed to have a beginning point for this page, a sort of right now image of me to give clarity regarding my current loves. I chose a recent self-portrait I had painted for an art class, scanned it and printed it as a 4×6 photograph. I used some of the words and phrases that I had written about myself in the ALP workbook to add a little journaling.
Step 3: Begin Filling Out and Making Your Cards
I knew that I wanted to create some of my own, hand drawn cards. I cut some watercolor paper to fit the pockets of my page. If you don't feel comfortable drawing your own images, you can also just add a blotches  of watercolor and then after the watercolor paint has dried, stamp onto the card with a permanent ink.
You don't have to hand draw your own cards. Use journal cards to create lists or to add a small bit of storytelling. If you need help with prompts, use ideas from your ALP workbook or from the ALP community.
Consider grouping you cards by subject. Sticking to the chosen color palette will help you keep the pages cohesive yet still allow you the flexibility of being able to move the cards around or add new cards.
On the back side of my pocket page, I chose to document what I love about my husband and son. They have a strong relationship. I realized that I could also document what they love about me. I asked my son to write down a few things and then recorded them on a card. It documents what he loves about me right now but also will serve as a jumping off point for me to add to in the future. After all, his perspective will change as he matures. It also helps me see how others perceive me, giving me a fresh perspective while encouraging me to document more about myself.
You will notice that a lot of the cards are still blank. They serve a dual purpose. This project isn't done yet. In fact, this is one of those projects that can be continued for as long as you wish to do so. Our likes and dislikes often change as we experience new things. This is the type of project which will allow you to see how you personally develop and grow with your experiences. Having the blank cards will make it easier for me to continue the project. They are pretty much ready to go, allowing me to just open my album and finish a card when the urge to do so hits me.
How will you document your favorites and loves? Share your ideas in the comments.