Hi everyone, it's Lea (CraftyMue). Today I wanted to share with you some of my Daily Pages. I'm a visual learner. I like to see what others are making to get my creative juices flowing and to remind myself that I too can do that!
I'll talk a little bit about my supplies, but mostly I just want to share with you examples of my daily pages – from the more detailed to the ugliest ones. For me, daily pages are all about just creating, not necessarily about what I'm creating.
So let's jump in and start with supplies.
I use Field Notes for all my daily pages. You'll see mostly they are the standard size, but I did try out a Dime Novel size.
I keep a box of photos and screenshots right next to my work table for easy access. I also keep an ink pad and date stamp, I stamp almost all my pages with the date. My paper trimmer and tape runner are my most used craft supplies.
I love the intro page that comes on the Field Notes inside cover, but you could easily add this to any notebook.
Stamps!
I love stamps and I have drawers full of them. When I see them for sale or on IG I can think of a million uses but when I get them home I've forgotten all the ideas. Daily Pages are a great place to practice stamping techniques or just use your stash.
Currently Lists and memory keeping are another great idea for Daily Pages.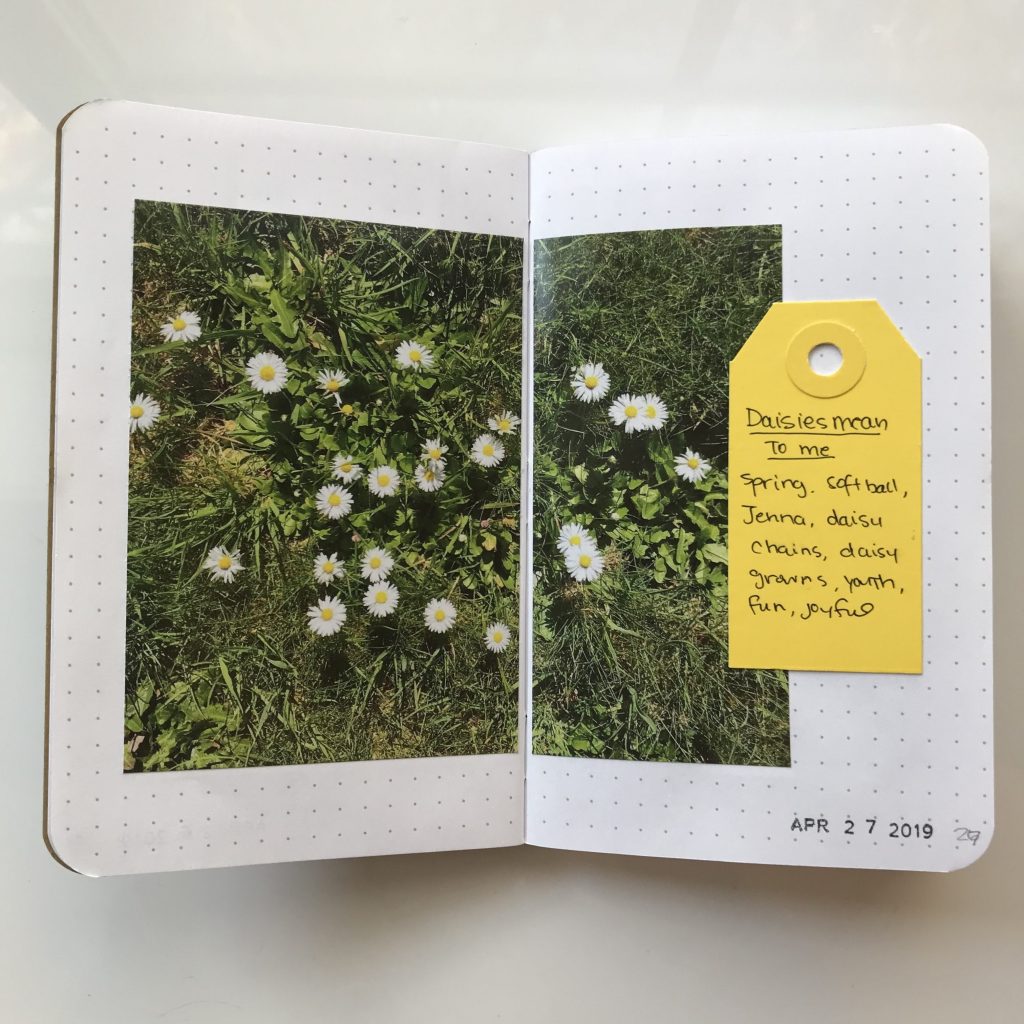 Reuse those shopping lists and junk mail!
Put ANYTHING down, it doesn't have to be pretty.
Document currently trending memes or social media themes.
Try a new technique
or "Steal Like an Artist" an idea you're drawn to.
Use up your stash.
Use the little things you've collected but didn't put in that mini book project you grabbed it for. Also add scraps of paper too pretty to recycle.
Sometimes I collect something for my Commonplace Book but decide it needs its own page.
One my most common pages is a screenshot paired with just about anything within arm's reach.
Whatever you decide to do, just remember it's for you. It doesn't have to be "Instagram worthy". You can share it HERE with the Awesome Ladies, you can share it on Instagram with #ALPdailypages, or you can just make the page and close the book every day.
It's a practice to give you five minutes a day to breathe, to focus on yourself. And if you miss today, try again tomorrow, your supplies will still be there.