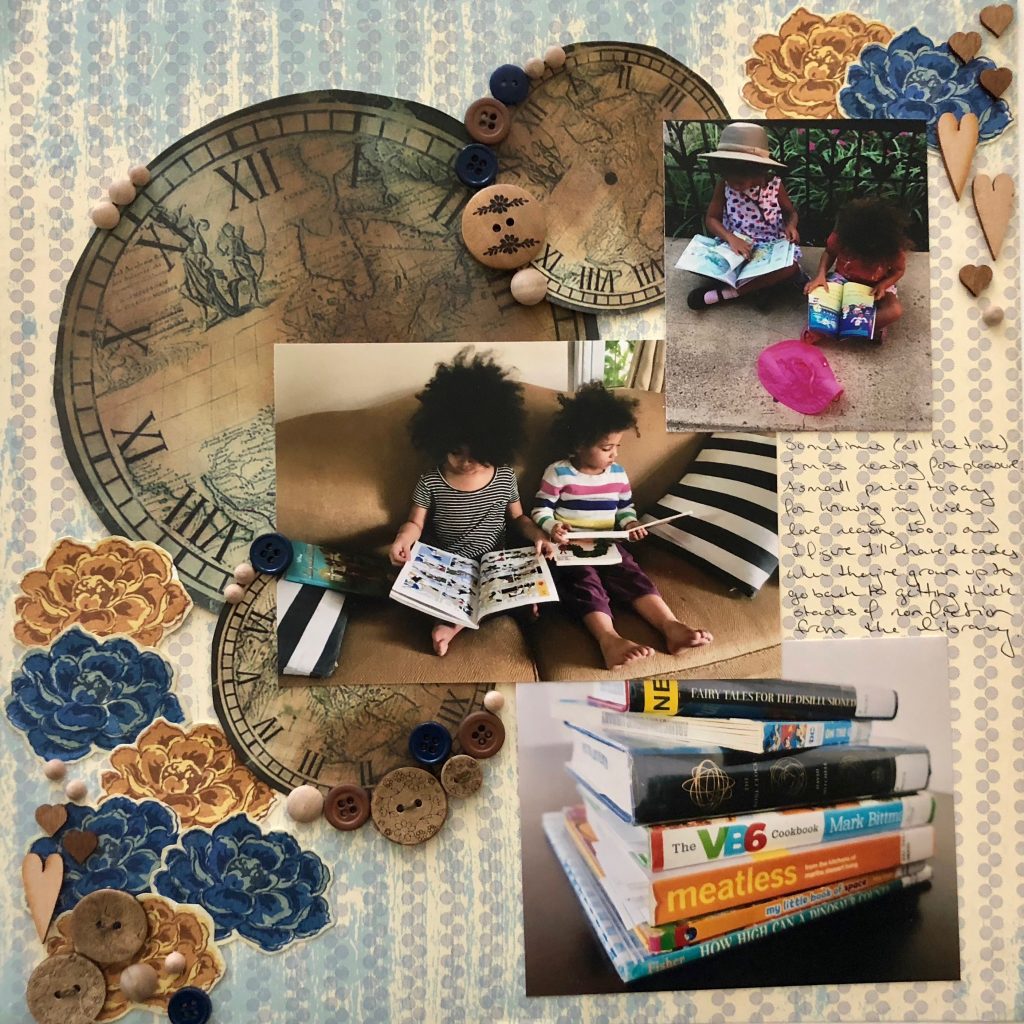 Finding Time to Scrapbook

Let's talk about finding time to scrapbook.
No matter what our lives look like; we are all busy. Whether it's working, mom-ing, doing laundry, taking care of our pets, visiting our parents, and/or doing the emotional labor of living in a world that is sharply polarized. I don't want being busy to get in the way of the things that are important to me: spending time with my family, and documenting memories, so I treat scrapbook layouts and cards like I do any other major task.
Identify the objective (complete a 12×12 layout)
Identify the discrete steps necessary to complete #1.
Break the steps down into digestible chunks.
Attack steps one by one as I have time until I've finished.
Objective:
Create a multi-photo scrapbook layout for September's theme: Read.
This layout took me a week to finish. I worked on it a little bit each day until today, when I was able to get a WHOLE LOT done because three-day weekends are magical. Let me break this down a little bit further.
Step One: Do all of the stuff I need to do `before I even sit down to scrap
This is basically prep work. In my case, I live across the street from a Costco, so I choose my photos from my phone, upload them on the app, and then go pick them up the next day on my way home from work. My desk needs to be clean so that I can leave my project out without it getting mixed up with anything else.
Choose and order photos through an app.
Pick up photos.
Clean up my crafting corner (actually, just a desk, but it's where the magic's gonna happen!).
Next, I create a "page kit" with everything I might need for the layout.
Why is it important to assemble the kit?
So that you have everything you need to work on the layout already picked out and at your fingertips.  No hunting through drawers and plastic containers for that perfect button–it's already in front of you.
Step Two: Crafty prep work
For this layout, I knew I wanted to show how my reading has changed over time (kids!), and needed some old looking clocks. Each of these steps only took a few minutes, so I could do them while the kids were eating breakfast, for a few minutes in the evening while watching the news. The key is that each step was one discreet activity that I could complete, even if I wasn't at my craft desk.
Print old timey clocks.
Distress old timey clocks.
Next, I stamped my flowers.
Then I cut out my flowers.
Step Three: Create my 12×12 layout
I leave my layout on my craft desk as I work. Again, you can try sitting down for 10 minutes here and 10 minutes there. The point is to make progress when you can.
1) Drop the big pieces on the page and see how I like them. Take a photo.
2) Drop the smaller pieces (like the flowers) on the page and see how I like them. Take a photo. Heck yeah, it's ugly.  But now I have a reference for the next afternoon when I sit down for 10 minutes while the kids are eating their snack.
3) Glue down the big pieces.
4) Play with embellishments (and take a photo so I remember where I wanted them in case my table gets bumped or a child does her worst).
5) Glue everything down.
6) Journal.
Step Four: Admire your finished project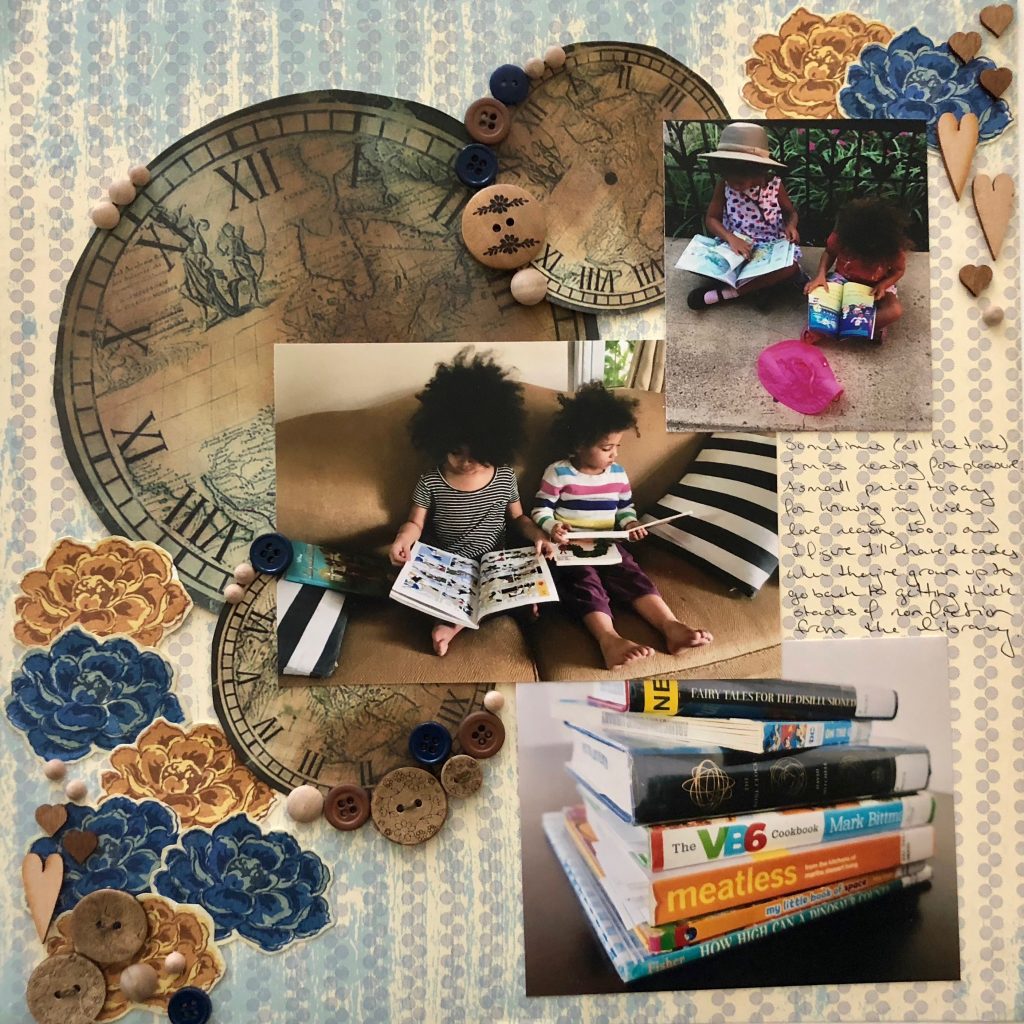 Listen.  Finding time for yourself is hard.  You know it.  I know it.  We all know it.  The best way to break the paralysis of being overwhelmed by any project is to break it down into steps and JUST START.
Friend, you got this.
What are your best methods for getting creative projects done in between moments in our busy busy lives?
Leave a comment below.