Beating the December Daily Hype
For someone new to modern scrapbooking, clicking on the #decemberdaily hashtag on Instagram is super intimidating. I remember first checking it out in 2016 and thinking "Wow, look at all these beautiful albums, I could never make something like that. I'm childless and single–what kind of stuff would I even document?" I let the hype intimidate me, instead of just focusing on what would work for my own December experience and remembering that my story matters.
In 2018 I decided to try December Daily for the first time, but I didn't really have a game plan. I bought too much stuff, but I didn't have it well organized. By the end of the month, I had lots of photos on my phone and a list of things that happened that month in a Google doc. I felt overwhelmed, and at that point, I gave up on trying to turn it into an album.
Then at Awesome Ladies Live in July 2019, I was riding to Horrocks with Amanda & Susan and talking about crafty projects. The idea of "December Daily Pages" came up–taking what was working for my daily pages in a 3×4 micro notes Happy Planner and applying that to December Daily. I decided to try it out with my December 2018 photos and stories. As I experimented with printing small photos and trying digital templates, I was able to figure out what worked for me and what didn't.
I'm happy to say that in December 2019 I completed my first December Daily by the end of the month. I didn't do any kind of foundation pages because I wanted to focus on the practice of creating each day. I know that not everyone sets a goal to finish in December, but I wanted to prove to myself that I could let go of perfectionism and just get it done.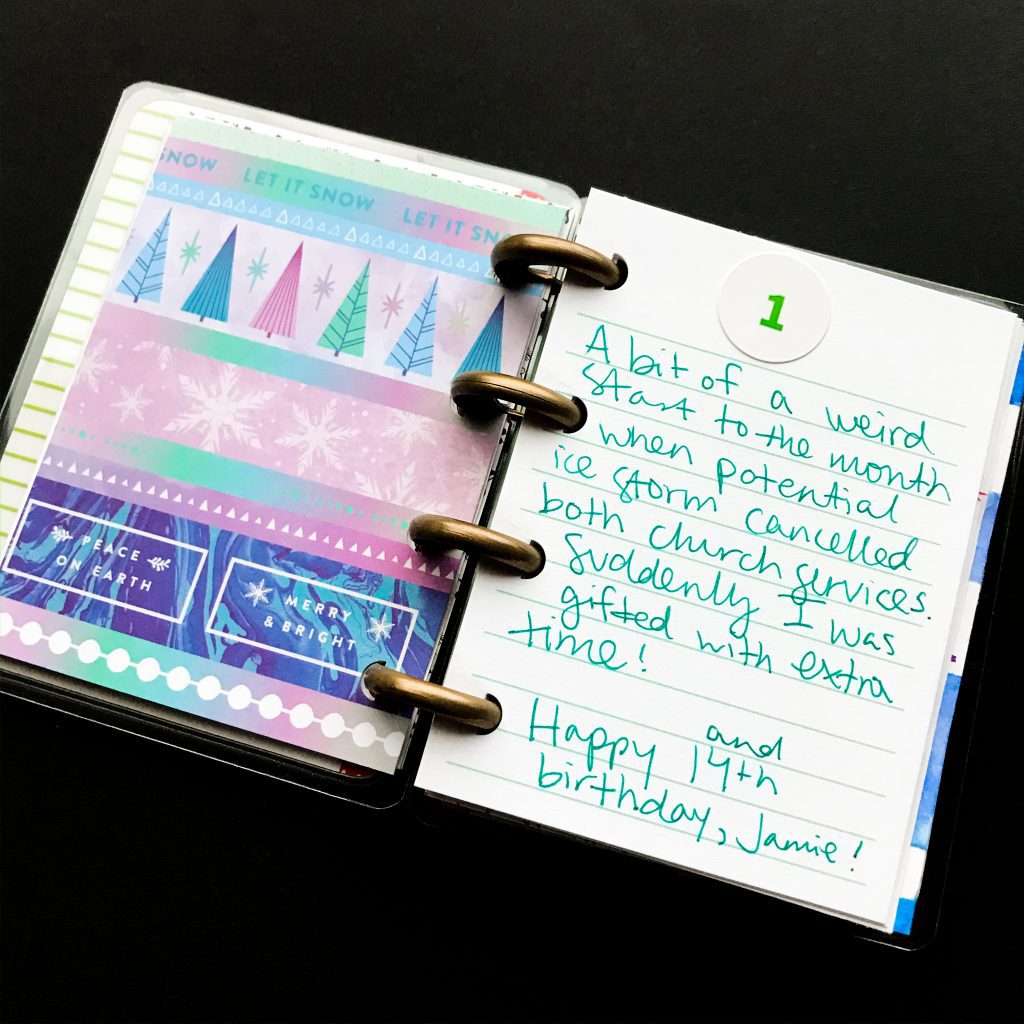 Here's what I learned during this process:
Kristin's Documenting December course was super helpful to get ready for this project. It has great questions and worksheets that helped me think through what would work for me. I was able to process the thoughts swirling in my head and actually make a plan.

I figured out how to make this project work with my own December schedule. Through the Documenting December course, I realized that I wanted a process that was simple enough to work on every day–even when I was traveling. Although I get two weeks off at Christmas, I didn't want to put my documenting off until then. I wanted my December Daily to be an everyday creative break for me during the busy holiday season. Using the small 3×4 notebook size made it super manageable.

I learned when to push myself and when to take it easy. This is something that I have to remind myself to do with all my projects, but it's hard as a recovering perfectionist. I had to acknowledge my energy level instead of worrying about what I "should" be doing. On days when I felt more creatively energized I pushed myself out of my crafty comfort zone with stamping and watercolor. On days when I just felt worn out, I gave myself the grace to keep it simple.

Having a simple, easily accessible supply kit helped so much. I don't have a dedicated craft space, but by using an 8×8 IRIS case to keep everything in one place, it was easy to craft in different parts of my house. Most days I stuck to those supplies, but I did have a bigger 12×12 box with all of my Christmas supplies for when I felt more adventurous and had more time.

I reminded myself that my project didn't need to look like anyone else's. Comparisonitis is REAL. Since I don't do photo printing at home, I decided not to use any photos in my December Daily album. It just made my process easier, and I knew I could capture my memories in other ways. Looking at Instagram, I felt like I was making a mistake and that I wasn't making an Instagram-worthy project. I had to regularly remind myself that I loved what I was doing each day and that it was the perfect method for me in this season of my life.