Awesome Ladies Member Spotlight – Alison Hutt
Welcome to Awesome Ladies Member Spotlight interview series! In this series, we take an intimate look at some of the members of our awesome community and get to learn a little bit more about them, their story, and their craft. 
All About You
What's your name and who are you known as on Awesome Ladies?

My name is Alison and my ALP handle is "emlymom"

Where are you from and where are you now?

I was born in San Francisco, but grew up in SoCal. I am still here; I live in Cherry Valley in the Inland Empire.

Care to share a bit about yourself? Let us know as much or as little as you'd like to share.

I am a wife, a grandmother of 4, and have been a teacher for 30 years. I teach at a continuation (alternative) high school and am the science teacher here.
We live on an acre where I play at homesteading. I had 2-3 sheep for about 5 years, but they were killed by coyotes last summer. I love working with wool and spin and knit.
My husband and I are also serious gamers: Final Fantasy (video), board, RPGs (esp. Pathfinder), Magic the Gathering. We go to gaming cons 3x a year.

Crafty Questions
How did you get you into paper crafts?

I had done some scrapbooking when my daughter was young, then I heard of Project Life a few years ago and found Ali Edwards' site as well. The rest is history.
Do you think your craft style has changed from when you started to now? How?
I 've simplified. My main motivation is to tell the story (journal) and show a picture. I do embellishments, but I am using less and less. I get too crazy if I try to make big fancy pages. I like PL because the pocket pages give me limitations and structure.
In 2019 I plan on going from weekly to monthly pages – even more, simplification. I think it is all a process of finding my voice and what works for me, honing in on my "reason why." I think I have really gone from just collecting photos to documenting my story. This is a huge value for me.

Where do you get your inspiration from? Who are your favourite crafters?

Ali Edwards. Our very own Shannon Manton (IG: shannan_pages). Rukristin. The ALP website is full on inspiration.

What are you currently working on?

December Daily. #30lists. 2018 Project Life. One Little Word 2018. Book of Me.

Can you share more about one of your major craft projects you are working on this year?
I used a TN for the first time with my Book of Me this year. Love it. I can either limit myself to a page or go all out with a 2-page spread. Also used it to make a travel album for our wedding anniversary cruise. It got me out of the pockets, let me be a little more creative. Extended my comfort zone. This then fed back into my other projects in terms of thinking outside the box and developing my creative thinking.

Favourite creation lately?
My Book of Me had me dig deep personally and try to express what I found visually. I am really enjoying the process, and the product will be something I will treasure (whether I finish or not).
What are your crafty goals for 2019, if any?
This year I want to develop more of a routine to do more current documenting rather than always coming from behind. My goal is to document 2019 with one photo a day for Project Life, choosing a photo from the day and completing a journaling card each day; completing my big 2 during the current month: One Little Word & Awesome Ladies Project Lens project. Basically, it is about moving it up the priority list, and for making PL a daily action. This will make documenting a daily thing and crafting, in general, will become a more important self-care practice.
What drew you to Awesome Ladies? What's your favourite part so far?

Kristin's emphasis on the importance of my story. I've been a member for two years. I love the annual flagship projects – I'm all in for the ride! Project Life is my story but it is a lot about me and family and friends and adventures; my outer life. The ALP projects have been more about my inner life, and they draw different things out of me than just journaling.
Also, I value the community of kindred spirits. I don't know anyone in my circles that documents the way I do. I love the hangouts and interacting with the Awesome Ladies on the site.

The Random Stuff
Favourite social media to use?

Instagram (emlymom)

If you could travel anywhere in the world where would you go?

Iceland – the geology, the sheep, the countryside, the culture.

Favourites – TV show, Movie, Podcast, Band/Musician

TV: Marvel Agents of Shield, Stranger Things
Movies: The Lord of the Rings, Star Wars, Marvel anything
Podcast: Crafty Ass Female!, The Knitmore Girls
Band/Musican: The Wailin' Jennies/Daughtry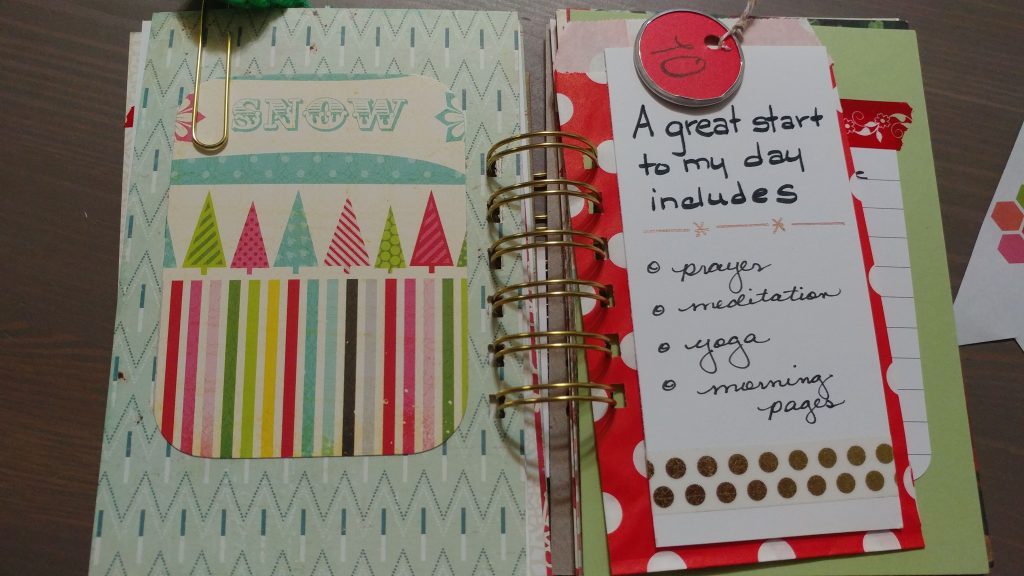 Either Or
Scissors or craft knife? Scissors
Glue dots or tape runner? Tape runner
Black pen or blue pen? Black pen
TV or Music? TV
Scrapping with snacks or no snacks No snacks…but now that you've suggested it…
Morning or night (or afternoon?) If I have time, morning – otherwise night, getting it in before bed

Currently…
Watching – She-Ra (the new Netflix edition)
Reading – Tristan and Isolde
Listening – CraftLit podcast
Making – December Daily
Feeling – More relaxed now that school is out for Winter Break
Planning – Christmas
Loving– our new remodeled upstairs

You can find Alison on Instagram and her ALP gallery

Thanks again for being part of our Member Spotlight.
Until next time,
Stay Awesome