When it comes to sticking things down on the page, there are a million options at your disposal. Today, I want to demystify adhesives with this basic guide and turn what may have once been an overwhelming part of your creative routine into something new, fun and exciting to explore.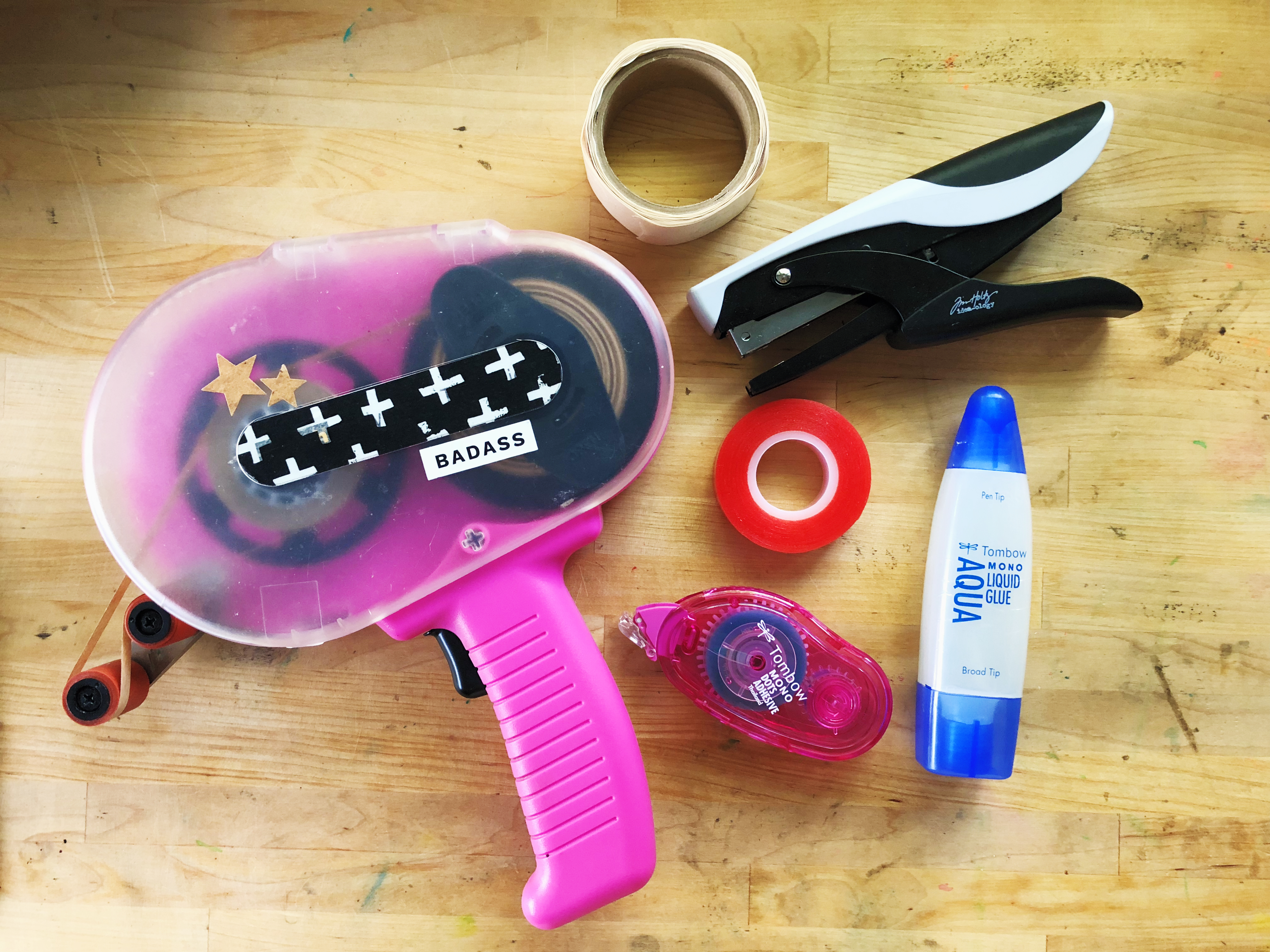 My biggest rule when it comes to supplies is: try out a few different things and see what works for you and see what doesn't work for you. Don't assume that because something works well for me, it's automatically going to be your favorite as well or the other way around.
Let's get started. There are two basic types: wet adhesive (think glue) and dry adhesive (think tape).
There are literally thousands of kinds of both wet and dry adhesives and you're going to have personal preferences for each. I'm sharing a few of my favorites with links to my Amazon Influencer shop (affiliate) or wherever else I pick them up.
Wet Adhesives:
Zip Dry
This is the only wet adhesive I'll use on my paper to paper projects. It doesn't wrinkle at all. It's amazing for mini-albums and works perfectly when gluing paper to chipboard. Read the instructions and replace the cap after use. Zip Dry Adhesive on Amazon.
Other Liquid Glue
Great for adhering certain embellishments to paper (think wood veneers,… ). I like the Tombow clear gel glues with the dual-tipped ends. Don't use liquid glue with rubber embellishments. Tombow Adhesive on Amazon.
Dry Adhesives:
Tape runners
My go-to adhesive for almost everything. I stick down about 90% of my stuff with a tape runner. Whether I'm using the ATG or a traditionally sized tape runner, it's the first thing I pick up when I'm ready to stick something down. The two I use most are the Scotch ATG (my big one), and Tombow tape runners (regular size).
Glue Dots
These are used to stick down embellishments that need a little bit of extra stick. They come in a variety of sizes and thicknesses. Glue Dots Minis on Amazon. DO NOT USE WITH RUBBER CHARMS.
Staples
Both regular size and tiny size are great for crafting projects! I love the texture. It's great for mini-albums, it's awesome for things that aren't inside page protectors (or are). My favorite is the Tim Holtz Tiny Attacher. I've had it for more than a decade and I use it on everything.
Strong Tape
Red liner tape (or Scor-Tape) is heavy duty tape when you know a tape runner isn't strong enough. Used for ribbon, adhering mini-album covers, extra binding, and more.
Xyron X
Xyron makes several sticker making machines, in a bunch of sizes, but the X is the one I keep on my desk and use on a regular basis. It's perfect for when something is a weird shape or has weird holes in it that a tape runner just won't work on. X Sticker Making Machine on Amazon.
What questions do you have about basic adhesives?